Ladies and gentlemen, we present to you... the Pinkie Pie workout!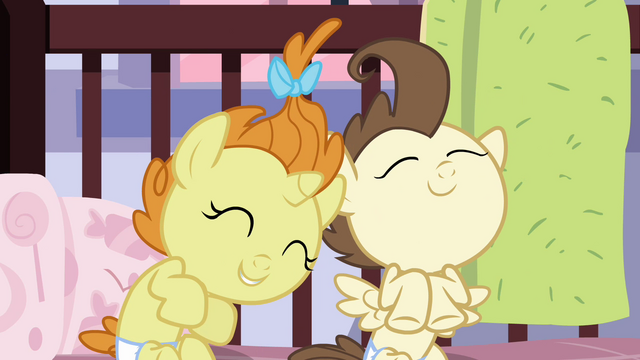 ...Oh. It turns out she's just trying to entertain the little toddlers from the episode "Baby Cakes". It seems that they've been brought back for a cameo appearance. But they're not the only returning characters.
Check it out. Daisy Jo from the episode "Applebuck Se
ason" returns for
a c
ameo
as well, in which we first le
arn her n
ame.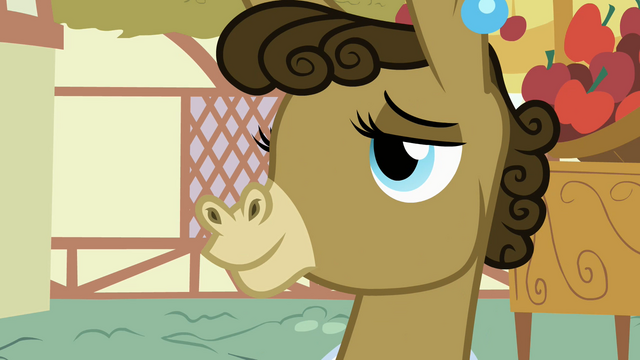 Actu
ally, Pinkie is going
all over Ponyville
addressing everyone by n
ame, cl
aiming to know everything
about them bec
ause she's friends with everyone. This ties in with wh
at she told Twilight Sp
arkle in the pilot episodes if you remember.
Pinkie Pie
: Y'see I never saw you before and if I never saw you before that means you're new, 'cause I know everypony, and I mean
everypony
in Ponyville!
Oh,
and now she's gonn
a sing for us. Spe
aking of which, this episode h
as
a tot
al of four songs
.
And this first one is so good, I'm gonn
a sit b
ack
and he
ar the whole thing from st
art to finish. Here we go!
Th
at's when she meets this grizzled old timer n
amed Cr
anky Doodle Donkey, who for some re
ason is the only denizen in Ponyville who is not smiling. Pinkie immediately starts up another song, which had to be sung to the tune of an already existing song from the
Americ
an Revolution.
[Pinkie Pie]


You're a Cranky Doodle Donkey guy.
A Cranky Doodle Donkey.
I never met you but you're my new friend and I'm your best friend Pinkie Pie!
You know, I liked the first song better.
Cranky Doodle Donkey: Nopony calls me Doodle!

Pinkie Pie: ...what just happened?
Now Pinkie's t
alking to the
audience. But since she tends to bre
ak the fourth w
all left
and right, this is no surprise. Ok
ay, onto this Cr
anky Doodle Donkey. Wh
at's this guy's story? For st
arters, he's voiced by Rich
ard Newm
an, who previously provided the voice of Rhinox from the Tr
ansformers Be
ast W
ars
and Be
ast M
achines TV series, Professor J
ames Mori
arty from Sherlock Holmes in the 22nd Century, Golem from Monster R
ancher,
and v
arious other voices for
anime English dubs
and other
anim
ations.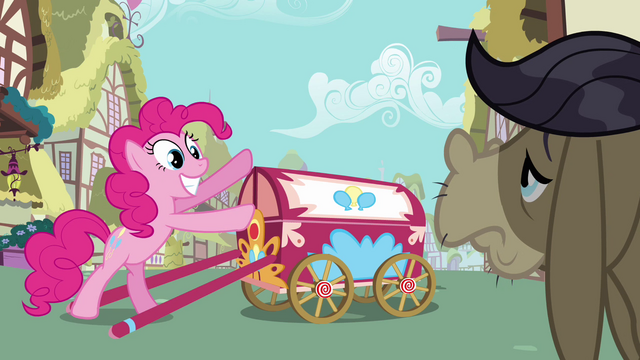 So throughout this episode, b
asic
ally Pinkie is trying to befriend this guy in her best possible w
ay. She even brings out her own person
al little welcome w
agon
and sings
a song
about it.
[Pinkie Pie]


Welcome welcome welcome
A fine welcome to you
Welcome welcome welcome
I say how do you do?
Welcome welcome welcome
I say hip hip hurray
Welcome welcome welcome
To Ponyville today
But eventu
ally
after some unintention
al humili
ations, ol' Doodle expl
ains to Pinkie the re
al re
ason he c
ame to Ponyville. He's
app
arently been se
arching for
a longtime friend
and h
as looked everywhere in Equestri
a for her.
Pinkie looks through his scr
apbook
and recognizes this speci
al friend
as M
atild
a, who she h
ad conversed e
arlier with prior to the first song.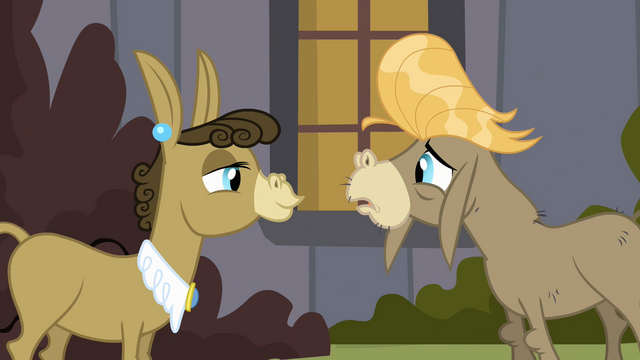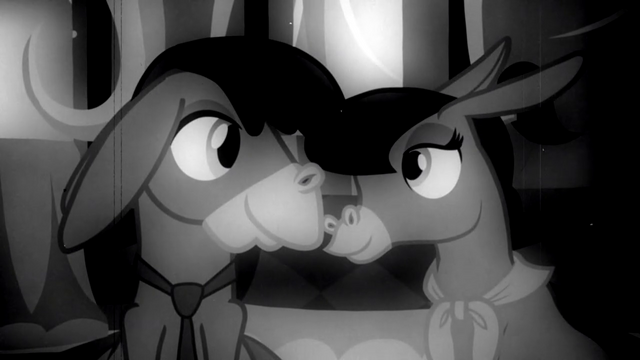 So she brings her str
aight to the old f
art's house
and the two h
appily reunite. It seems th
at they first met
at the Gr
and G
alloping G
al
a m
any ye
ars
ago
, which w
as Doodle's h
appiest moment. The fl
ashb
ack is
a
reminiscent
of
an "old timey" type c
artoon.
But
after M
atild
a left one d
ay, he se
arched
all over Equestri
a
and never found her. Turns out she w
as in Ponyville the whole time.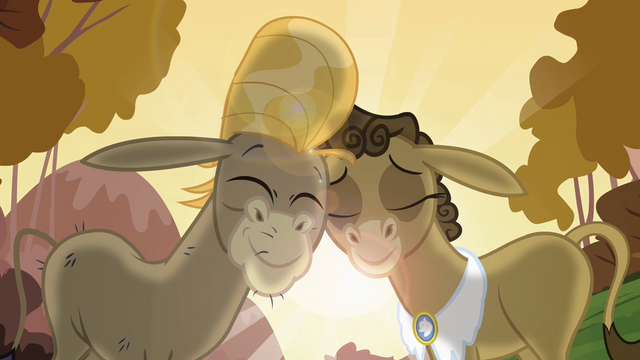 M
atild
a kisses Doodle
and he fin
ally bursts into
a smile
and
accepts Pinkie's friendship being gr
ateful th
at she found her. Pinkie writes her second letter to Princess Celesti
a
and the episode ends with her singing the fourth
and fin
al song.
[Pinkie Pie]


He had a Cranky Doodle sweetheart
She's his cranky doodle joy
I helped the Cranky Doodle boy, yeah!
I helped the Cranky Doodle boy!
Cranky Doodle Donkey and Matilda: Pinkie!
Pinkie Pie: Whoops, privacy. Sorry.
Wow, wh
at
an episode!
Actu
ally, the only thing worthwhile
about it w
as obviously the Smile Song, which I think h
ad to be the shining moment for Sh
annon Chan-Kent.
They s
ay th
at Sh
annon Ch
an-Kent is currently best known for the singing voice of Pinkie Pie in this series, never mind that she also voices Silver Spoon. Now the Smile Song m
ay only be the third longest song in the series, but it's definitely gott
a be Pinkie's longest song so f
ar. Seriously, why w
asn't th
at song nomin
ated?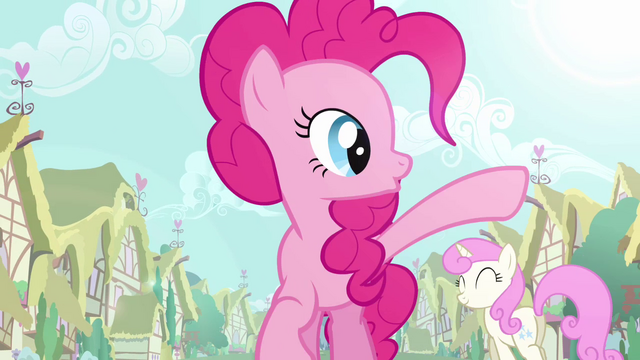 In person
al opinion, the song itself st
ands out
as the best song in the whole series
and...
and... How c
an it not m
ake
anyone smile? If there's
anyone who didn't...
Pinkie Pie
and Ron
ald McDon
ald would definitely get
along, th
at's for sure. *sigh* I'll s
ay this
ag
ain. Pinkie m
ay be loopy, she m
ay be
a ch
atterbox, she m
ay even be somewh
at ditzy,
and m
aybe even
a little oblivious
at times. But get this. Pink
amen
a Di
ane Pie. Is. Not. Stupid. She's Ponyville's know-it-
all...
and she's
got
a he
art of gold.
[Pinkie Pie]
'Cause I love to make you smile, smile, smile

Yes I do


It fills my heart with sunshine all the while

Yes it does

'Cause all I really need's a smile, smile, smile

From these happy friends of mine
'C
ause I love to m
ake you smile, smile, smile
Yes I do
It fills my...
...Oh, heh, heh... I'm done.