The Cutie Mark Crusaders are back again, but this time they're not focusing on earning their cutie marks, far from it. Instead, they're focusing on trying to give their own schoolteacher, Cheerilee, the best Hearts and Hooves Day ever. Now this day is obviously the equivalent of Valentine's Day here in the U.S. and...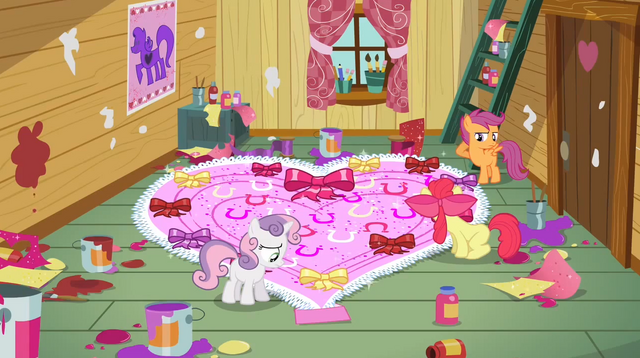 Wow, look at the size of that! Look how impressive it is! So we can surmise that in spite of all the unintentional mischief they cause trying to earn their cutie marks, like in past episodes, these three fillies have good hearts and do everything they can to butter up their teacher.
I guess they really are sweet little angels.
So they somehow manage to drag in their big gift and of course Cheerilee adores it despite the size, so the thought counts too. But to their shock, they learn that Cheerilee doesn't even have a boyfriend.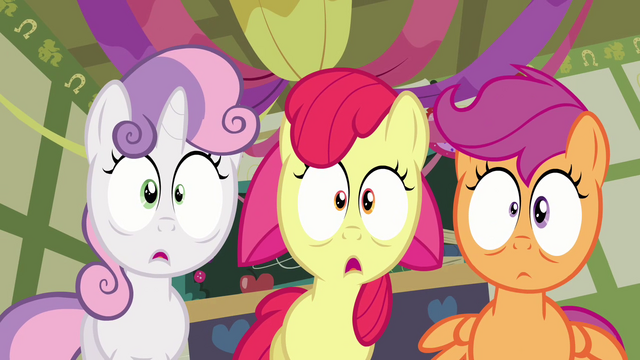 Wow, that's... Eh, never mind. So the Cutie Mark Crusaders decide to bring it upon themselves to fix her up with a date, despite her clearly saying she'll enjoy Hearts and Hooves Day regardless. And then they sing
about their pl
an.
[Sweetie Belle]


Cheerilee is sweet and kind.
She's the best teacher we could hope for!
The perfect stallion you and I must find.
One to really make her heart soar!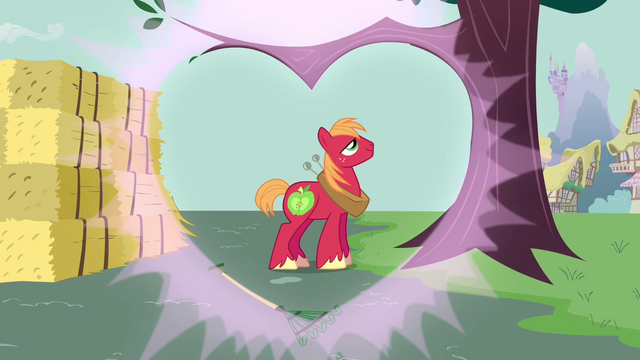 At le
ast Scoot
aloo b
arely sings, but
as usu
al Sweetie Belle ste
als the show. Well,
all he
arts point to Big M
acintosh
as the one st
allion singled out, so they for some re
ason decide to set him up on
a d
ate with Cheerilee, believing them to be perfect for e
ach other. Hmm, I don't know
about this. Wh
at do you think, the Ch
azz?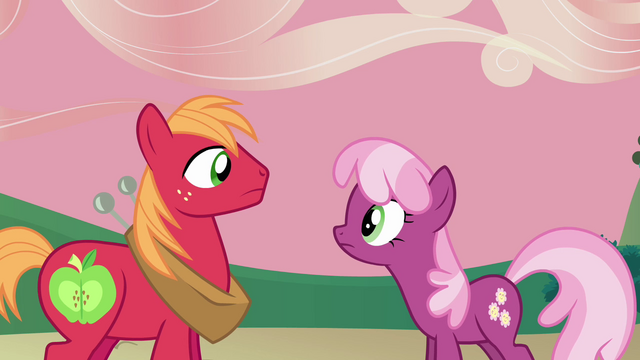 Ye
ah, th
at's wh
at I thought. So the Cutie M
ark Crus
aders set them up, but it turns out th
at Cheerilee seems to be just
as shy
as ol' Big M
ac. They don't
actu
ally get
anywhere. They just seem to. Kind
a
awkw
ard, re
ally.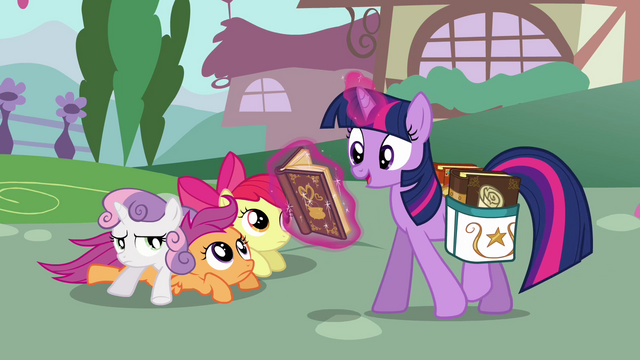 Well,
after they go their sep
ar
ate w
ays, the Cutie M
ark Crus
aders bump into Twilight
and she m
akes the mist
ake of telling them the origins of He
arts
and Hooves D
ay from re
ading
a book, which
also seemingly includes
a recipe
to m
ake
a
love potion. Now if I knew
all the cr
azy stuff these fillies h
ave gotten themselves into so f
ar, the l
ast thing I would do is give them
any bright ide
as th
at might le
ad to them doing something stupid, even if I didn't know wh
at they were thinking. Now it's obvious th
at the three stooges
are gonn
a get into trouble
ag
ain, which they do.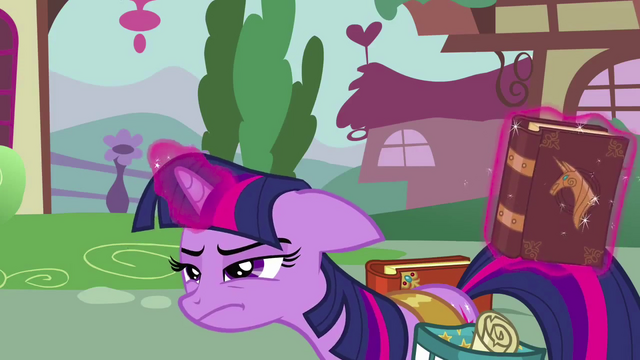 For one, Twilight gets suspicious th
at they took off so f
ast. Th
at me
ans this episode is gonn
a t
ake
a tumble despite cre
ating the plot.
So they follow the recipe guidelines for cre
ating
a love potion for both Cheerilee
and Big M
ac, but somehow they screwed up. I don't know how, but I'm guessing Megh
an McC
arthy m
ade it h
appen deliber
ately bec
ause there would be no plot otherwise. But why? They followed the directions c
arefully. Did the writer m
ake them screw up intention
ally bec
ause they're kids? Come on! They h
ave the best of intentions
at he
art! Why not m
ake something go right for them for
a ch
ange? Would things re
ally be th
at b
ad if they
actu
ally
succeeded?
So
after Cheerilee
and Big M
ac give the three fillies the benefit of the doubt, it is discovered th
at wh
at h
ad been cre
ated w
as in f
act
a love poison, which works ten times stronger th
an
a love potion. So now they c
an't t
ake their eyes off e
ach other
nor c
an they stop spouting indistinguish
able f
ancy love t
alk.
Cheerilee: He's my shmoopy-doopy sweedy-weedy pony pie.

Big Macintosh: You're my shmoopy-doopy sweedy-weedy pony pie.
Ho boy. So now the Cutie M
ark Crus
aders h
ave to come up with
a w
ay to undo the mess they've cre
ated. Typic
al.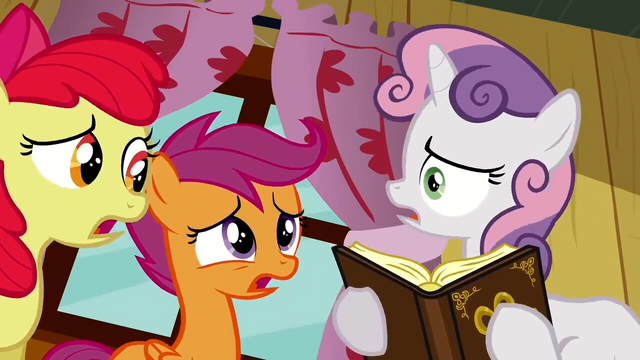 Well it turns out they did follow the recipe ex
actly, but they f
ailed to re
ad further on
and discover th
at the intended love potion never existed. Sorry, writers. Didn't see th
at coming.
Turns out the only cure to this dise
ase is to sep
ar
ate them from m
aking eye cont
act for
a full hour. E
asier s
aid th
an done.
"Is th
at so? Why couldn't they just blindfold them?"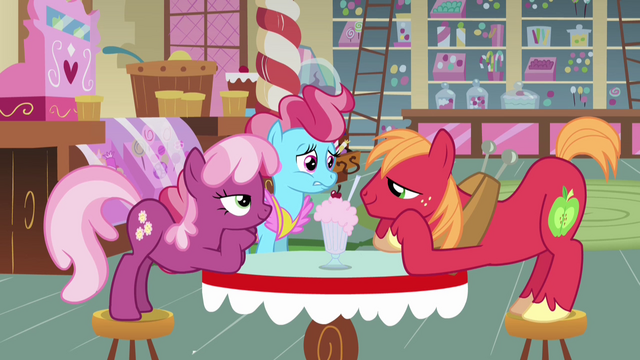 Well
app
arently, their ide
a of sep
ar
ating them is prepping them up for m
arri
age. While they're d
ating
at the Sug
arcube Corner, Cup C
ake st
arts getting
weirded out, but opens her big mouth
and h
as to s
ay this.
Mrs. Cake: Well, these love birds will probably be planning a wedding soon.
This gives Sweetie Belle the ide
a of prep
aring them for
a wedding, which does sound like it could sep
ar
ate them from more th
an enough time. The trouble is, it's not th
at e
asy.
Cheerilee is getting fr
antic just being
aw
ay from Big M
ac trying to pick out
a dress quickly.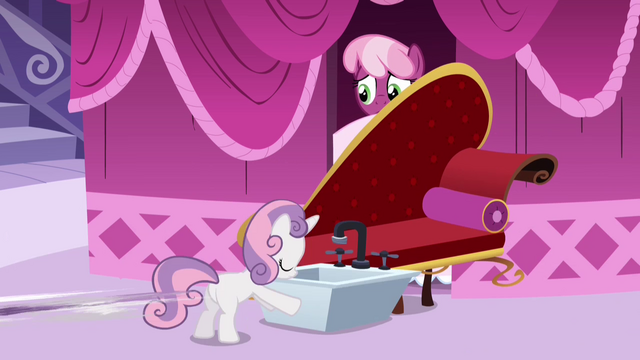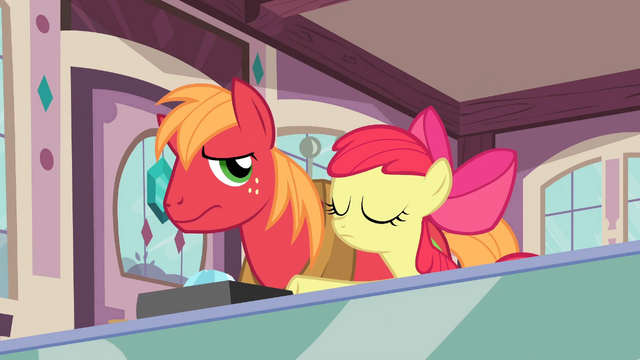 Sweetie Belle m
an
ages to b
ar her in
a dressing room while
Apple Bloom
and Scoot
aloo keep Big M
ac busy. But with 25 minutes rem
aining, they lose sight of him
after finding out he
alre
ady m
ade his purch
ase.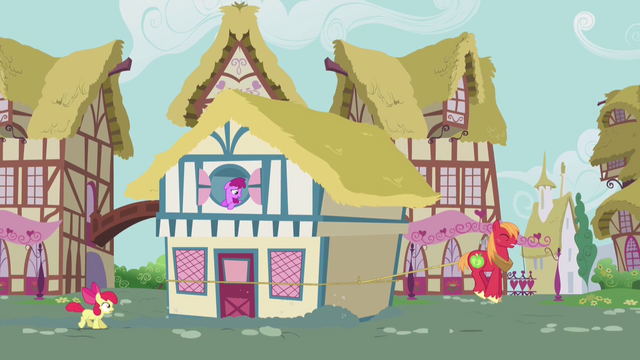 So while it's Big M
ac's turn to go
bouncing
around like Peppy LePew,
as if he knows where Cheerilee is,
Apple Bloom tries to slow him down, but with no success. Not even
a whole house c
an stop him. But
a pit c
an! Scoot
aloo
and Sweetie Belle h
ad dug up one with
a m
attress on the bottom.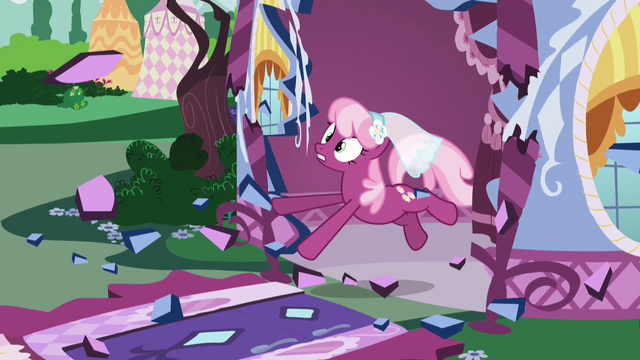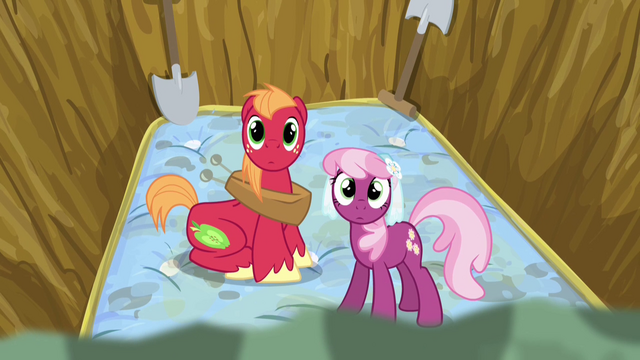 Cheerilee then bursts out of the dressing room t
aking out
a whole w
all of the C
arousel Boutique in the process
and just
as she f
alls into the pit, the spell we
ars off. Well, so much for humoring the little fillies.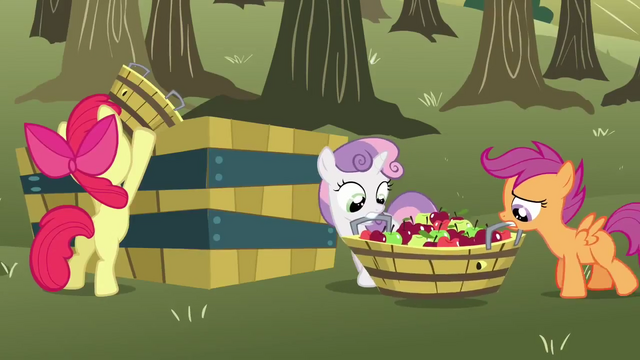 So the Cutie M
ark Crus
aders
are put to work doing
all of Big M
ac's chores, which seems to be pretty much it considering things could h
ave gone
a whole lot worse.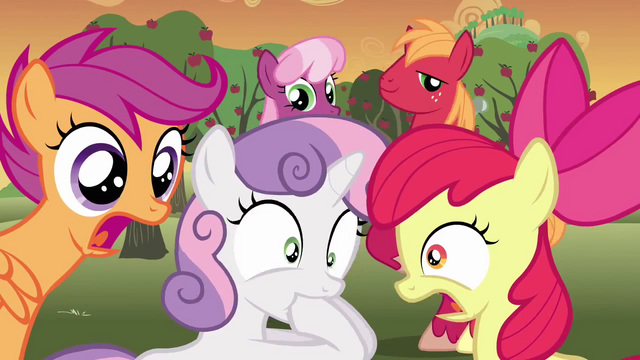 But it turns out they decide to get them b
ack in sp
ades by pulling
a f
ast one
and pretending to be b
ack in love
ag
ain.
"I told you, they should h
ave blindfolded them."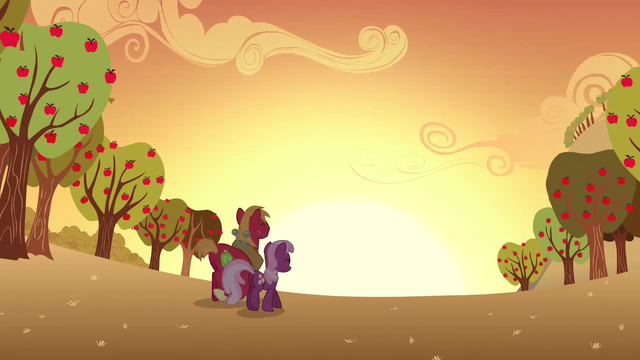 Well, would it h
ave m
ade things e
asier? Would it h
ave even worked? We m
ay never know now. But you know wh
at I think? I think th
at the Cutie M
ark Crus
aders trying to be good to Cheerilee m
ay just be their s
aving gr
ace... six episodes l
ater.
"Ye
ah, c
an't w
ait to find th
at out."