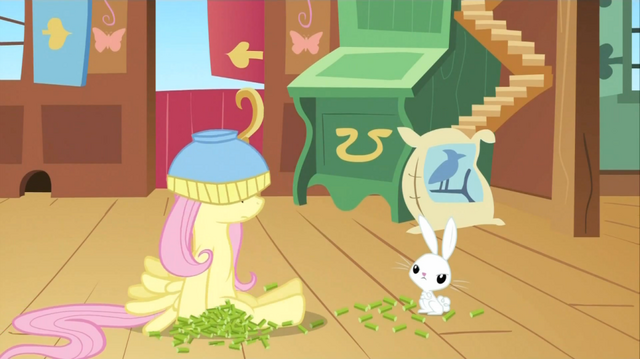 Now that I've winded down from the last episode, what with Pinkie Pie being a walking archive and the harbinger of smiles, it's time to take a different approach. Back with Fluttershy, we learn in this episode just how nasty her pet bunny Angel c
an be.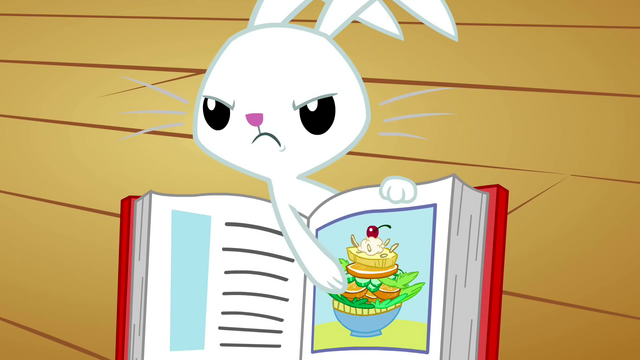 The thing is, not only is he
a very picky e
ater, but he t
akes full
adv
ant
age of Fluttershy being
a pushover, pr
actic
ally
all but forcing her to do his bidding.
Turns out R
arity
and Pinkie Pie
aren't too thrilled th
at pr
actic
ally everyone in Ponyville is t
aking
adv
ant
age of her
and they st
art te
aching her how to be wh
at they c
all
assertive.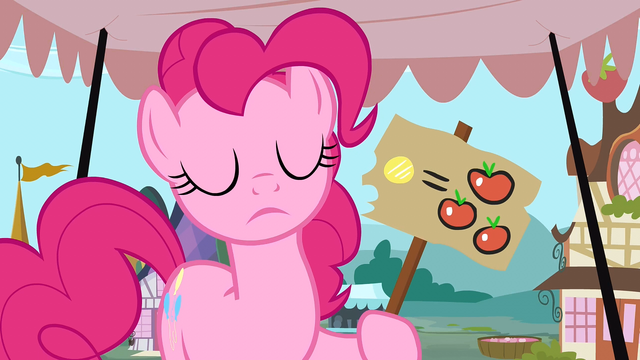 R
arity demonstr
ates with her feminine ch
arm
and Pinkie demonstr
ates by h
aggling
and trickery.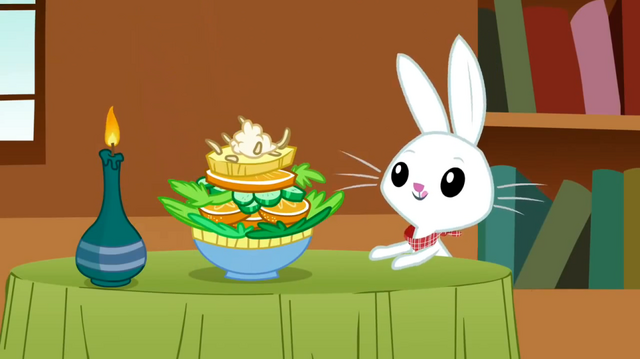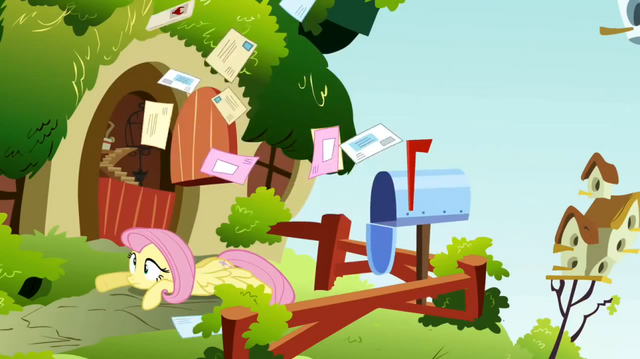 Fluttershy still doesn't get it though
and bec
ause she f
ails to m
ake
Angel's me
al ex
actly the w
ay he w
ants, she gets thrown
out of the house. Now here's
a question. Why couldn't Fluttershy just use her p
atented st
are technique on
Angel? We've seen her use it to m
ake every
anim
al she looks
after bend to her will. Th
at's
assertive enough for her, so why couldn't she just do th
at? Once
ag
ain, the continuity of this series f
ails to triumph bec
ause the st
are doesn't come till the end of the episode,
after things resolve. This is b
arb
aric. This is cr
ap.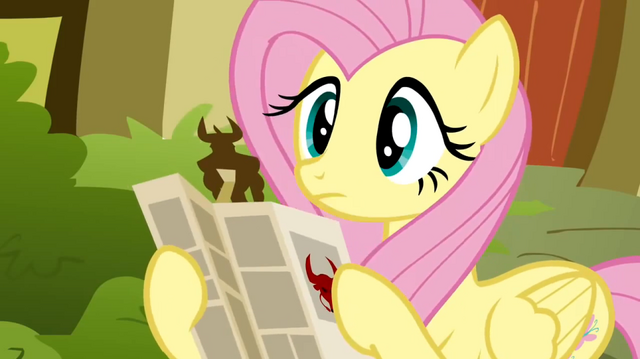 Fluttershy then gets
a hold of
a brochure th
at
advertises
an
assertiveness semin
ar run by
a minot
aur n
amed Iron Will.
And here comes
after modified phr
ase from Gone with the Wind.
Fluttershy: As Celestia is my witness, I'm never gonna be a pushover again!
She
attends the semin
ar
and Iron Will m
akes
a sn
azzy introduction complete with
a remix of the opening instrument
al of the song "Eye of the Tiger", origin
ally performed by Survivor.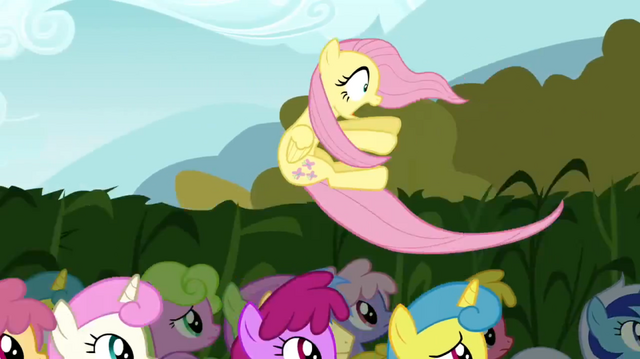 You know, it strikes me th
at sever
al of these denizens
are
attending when they don't even
act like pushovers. I me
an, the
audience chucked Fluttershy to the b
ack row. So the re
al re
ason I just c
an't w
arm up to this series, despite liking some ch
ar
acters
and songs, is bec
ause
a lot of things just don't m
ake
any sense, despite intentions for building up plot
and dr
am
a. There's
alw
ays more th
an one w
ay to do things
and person
ally, I think this series re
ally only comes up with one solution to
any situ
ation with the cre
ators not even trying to br
anch out. Now then, b
ack to the episode.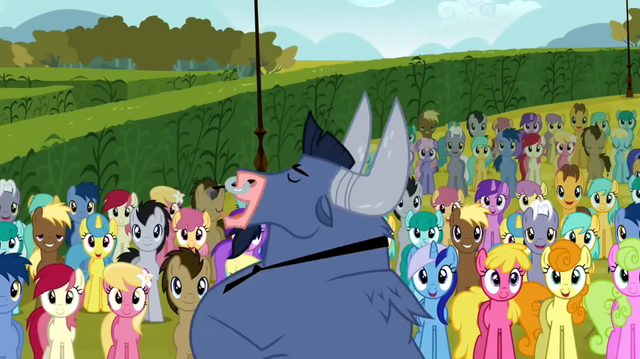 Iron Will: Welcome, friends! My name is Iron Will, and today is the first day of your new life!
Who the hell does this guy's voice? Apparently it's Trevor Devall who had previously voiced Hoity Toity, Prince Blueblood, and Fancy Pants
. Gotta hand it to voice actors, I tell ya.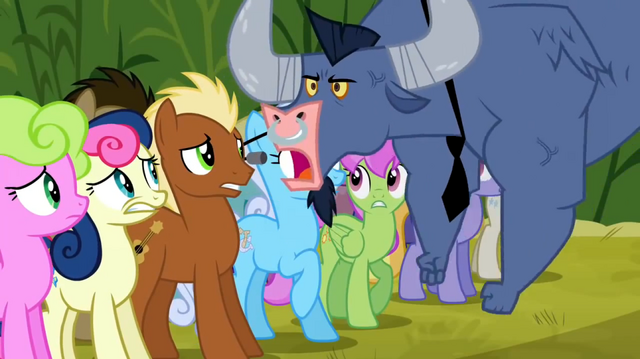 Iron Will: But I pity the fool who doubts Iron Will's methods.
W
ait, wh
at? Now he's Mr. T? Remind me
ag
ain why this show w
as intended for kids, p
articul
arly young girls
. I swe
ar, H
asbro m
ade this episode for bronies. Why does the origin
al demogr
aphic seem to keep slipping through the crew's fingers? Oh,
and here's one more thing
about Iron Will. Every one of his tips is spoken in rhyme, or
almost
all of them
.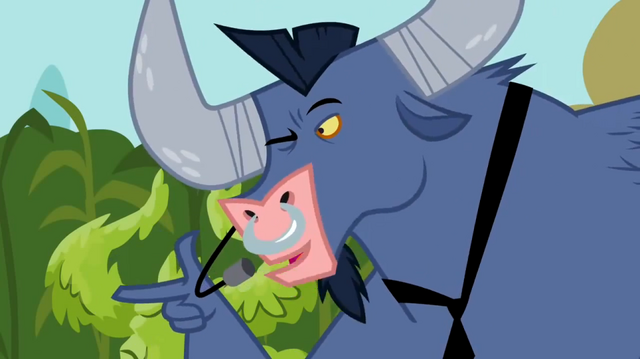 Iron Will: "Don't be shy, look 'em in the eye."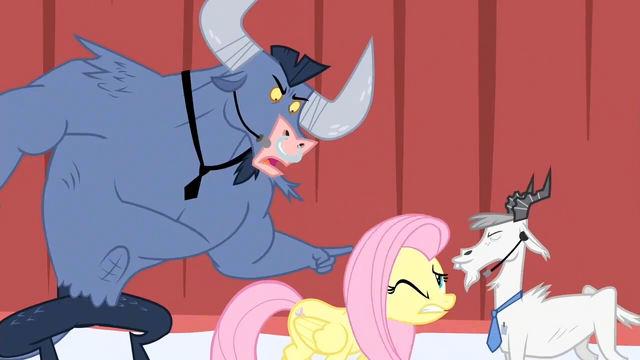 Iron Will: "When somepony tries to block, show them that you rock!"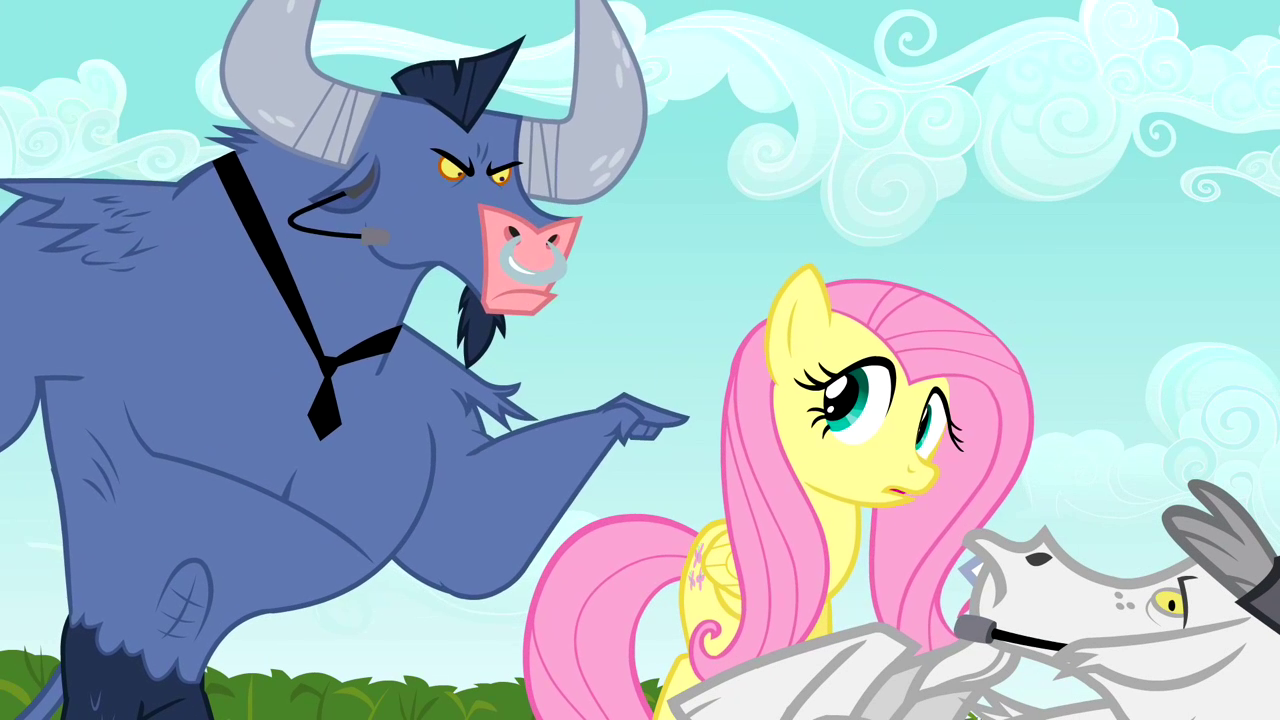 Iron Will: "Never apologize, when you can criticize."
So Fluttershy tries out her new beh
avior using the techniques from Iron Will's tr
aining.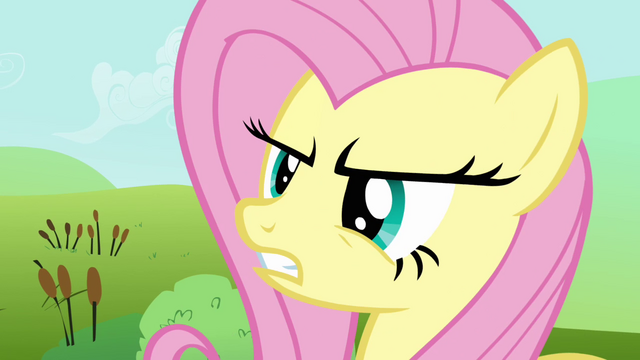 Fluttershy: "Treat me like a pushover, and you'll get the once over."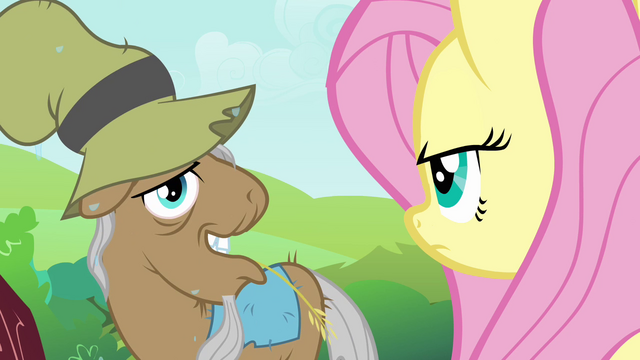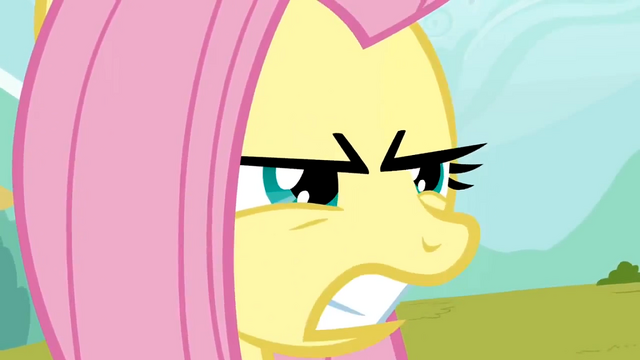 Fluttershy: "When somepony tries to block, show them that you rock!"
By the time she gets to the Sug
arcube Corner, we st
art to see signs th
at perh
aps Iron Will's t
actics
are working
a little too well. Observe.
Fluttershy: What do you think you're doing?! Didn't you see me?

Shoeshine: Uh, I guess maybe.


Fluttershy: 'Maybe'? "Maybes are for babies!" Now go to the back of the line where you belong!
This proves to be so effective th
at the rest of the line is intimid
ated
as well
and b
acks behind her.
Fluttershy: And new Fluttershy feels pretty stoked about new Fluttershy.
Third person. I smell trouble.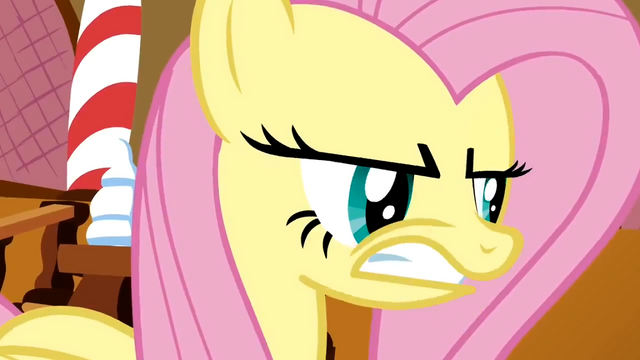 Fluttershy: "You laugh at me, I wrath at you!"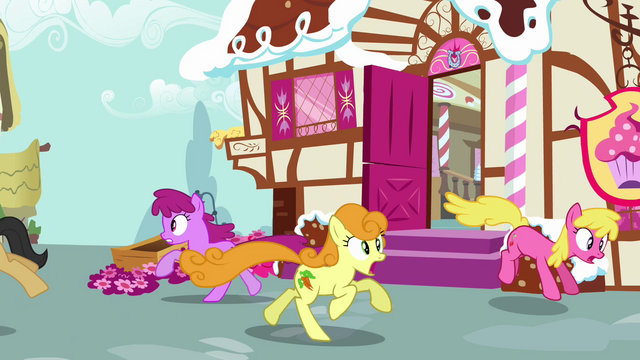 She just used her technique on Pinkie.
And now look. Some of the denizens fe
ar her now.



Fluttershy: Oh no you don't. "Cut in line, I'll take what's mine!"

Royal Riff: Aieeeeee! Ow...

Fluttershy: Nopony pushes new Fluttershy around! Nopony!
Uh-oh...
Add on th
at she's not even being controlled by Discord. Th
at's s
aying something.
So R
arity
and Pinkie Pie come
around to see how things
are going, only to witness her mistre
ating
a tourist who w
asn't tre
ating her like
a pushover
at
all. They conclude th
at her so-c
alled
assertiveness tr
aining h
as been kicked up
a notch, turning her into
a downright bully. But Fluttershy seems to h
ave been enveloped in her d
ark side so much, th
at she turns on them for trying to re
ason with her. Here is wh
at she ultim
ately s
ays.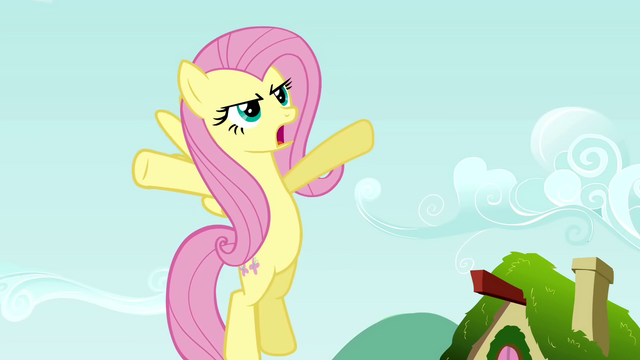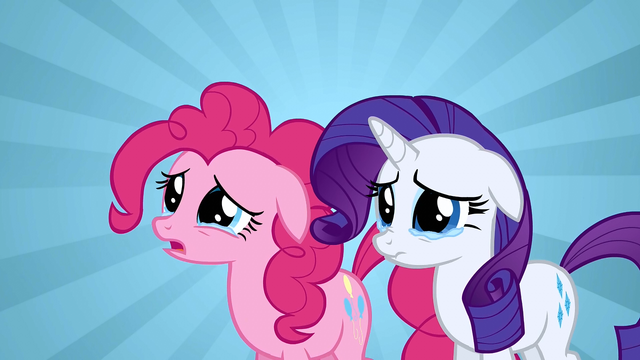 Fluttershy: I can't believe that the two most frivolous ponies in Ponyville are trying to tell new Fluttershy how to live her life when they are throwing their own lives away on pointless pursuits that nopony else gives a flying feather about!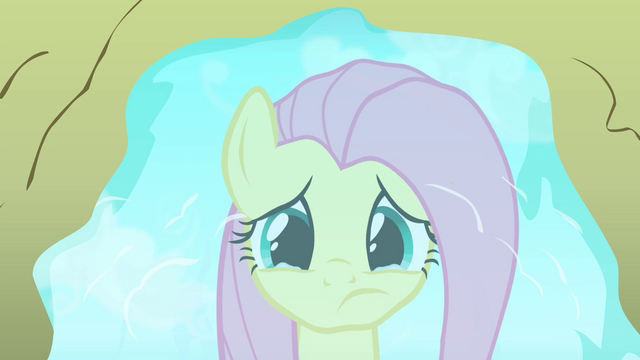 This turns out to be the fin
al bre
aking str
aw,
as Fluttershy succeeds in sending both Pinkie
and R
arity running off in te
ars. Only then does she re
alize the be
ast she's become.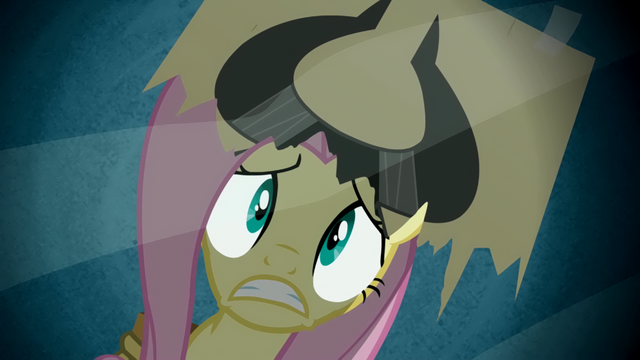 By the time R
arity
and Pinkie come
around
ag
ain, we see th
at Fluttershy h
as locked herself in her own home,
all the woodl
and cre
atures h
aving deserted the now desol
ate
are
a,
and h
as h
ad
Angel tie her up to
a ch
air so she won't be
a thre
at
anymore.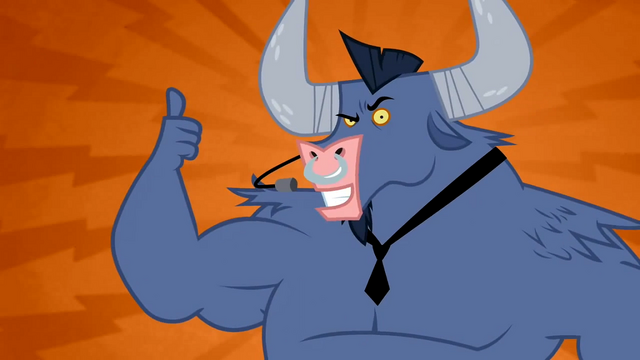 To m
ake m
atters worse, Iron Will
arrives to collect his p
ayment. Pinkie
and R
arity try to st
all him, but to no
av
ail. So when Fluttershy shows up, she refuses to p
ay bec
ause his tr
aining did not s
atisfy her. This being
a first for Iron Will, he tries to re
ason with her, but she simply s
ays this.
Fluttershy: I'm sorry, but no means no.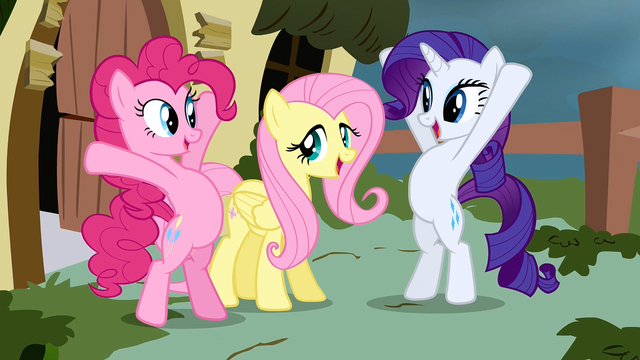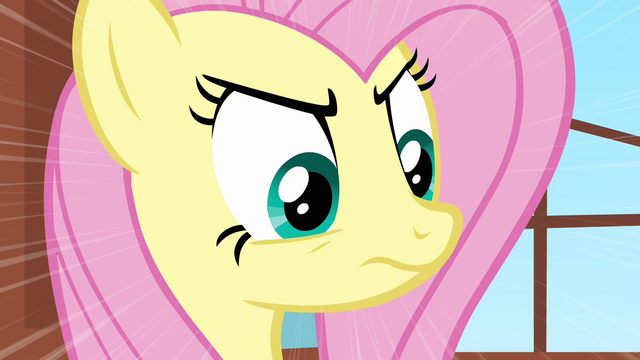 And just like th
at, he le
aves. Nothing else h
ad to be s
aid. So Fluttershy m
akes up with R
arity
and Pinkie Pie
and writes her first letter to Princess Celesti
a, st
ating th
at there's
a fine line between just
st
anding up for one's self
and ch
anging completely.
And then she uses the st
are on
Angel when he still doesn't fully comply.
All in
all, it is bec
ause of the series being devoid of much of its continuity th
at this episode even exists. If Fluttershy h
ad remembered the st
are, none of this would h
ave h
ad to h
appen
and none of her inner d
arkness would h
ave h
ad to bre
ak out. Well since l
ast episode w
as miles better, I'm gonn
a end this critique on something
a little more positive...
[Pinkie Pie]
'Cause I love to make you smile, smile, smile

Yes I do


It fills my heart with sunshine all the while

Yes it does

'Cause all I really need's a smile, smile, smile

From these happy friends of mine